Rob Flynn, vocalista y alma de Machine Head, declaró a Metalshrine la simpatía que le tiene a Lulú, el proyecto de Metallica junto a Lou Reed.

Estas fueron sus palabras:

"Todo el proyecto 'Lulu' es una peste y es horrible. Metallica nunca me han preguntado pero si lo hicieran les diría lo que siento ya que lo he dicho en público, así que lo deben saber porque están al tanto de lo que la gente piensa de su banda. No termino de entenderlo...si necesitaban cambiar un poco el rollo lo entiendo, pero ¿no estaban Lemmy o Iggy Pop dispuestos a hacer algo así?. Hay muchos músicos que creo que habrían sido una mejor opción. No conozco a Lou Reed, a lo mejor es el tío más simpático del mundo.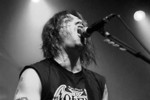 No me gusta Lou Reed. No sigo su carrera en solitario ni los discos de The Velvet Underground, por lo que no se demasiado de el. Yo escribo muchos temas que no suenan demasiado a Machine Head pero me gusta mucho gente como The Cure, por lo que escribo mucho material en plan gótico, me gusta...de todos modos, estoy muy orgulloso de haber mantenido nuestra visión de la música y nunca hemos tenido un momento 'Lulu' ni una etapa Blaze Bayley"